Serving the South Central Counties of Middle Tennessee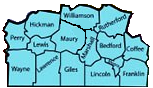 Bedford

Coffee

Franklin

Giles

Hickman

Lawrence

Lewis

Lincoln

Marshall

Maury

Moore

Perry

Rutherford

Williamson
Reaching Out To Serve

Welcome

Thank you for visiting the Community Development Center (CDC) website. Our agency provides a comprehensive,

Early Intervention

program to meet the needs of developmentally challenged children, birth to three years of age.

A

Family Support

program provides flexible support to households with a developmentally challenged member.

The

Independent Support Coordination

component manages services of persons with developmental disabilities served in the Medicaid Waiver. The service areas of the program include educational, developmental, medical and living coordination.

In addition to our traditional programs, we continue to explore avenues to increase the reach of our mission to the communities in which we serve. The CDC has been awarded two grants for 2014 which will allow us to expand our services in the community:

Through the Pathways to Health program funded by Baptist Healing Trust, we are now providing outreach, education, and enrollment assistance which will aid many South Central Tennesseans searching for affordable health care.

In a partnership with the Tennessee Commission on Aging and Disabilities, we have opened The Benefits Enrollment Center, which provides assistance to adults with disabilities and seniors for enrollment into need-based public Benefit programs.

Providing supports and services to children, families and individuals with disabilities while addressing the health and well-being of all persons in the communities in which we serve.
The agency annually touches the lives of over
850 families
who have a developmentally challenged member. Licensed child care providers receive over
1800 hours
of training for
725 staff
. Lives are changed and futures are brighter through the commitment and services of 55 CDC staff members.
partnerships
Throughout the service history of the CDC, partnerships have been established both in professional and humanitarian relations. The agency partners with major departments in the Tennessee government and service system. Contracts are held with the
Department of Education
,
Tennessee Early Intervention System (

TEIS

)
,
Department of Human Services
,
Department of Finance and Administration
, and the
Division of Intellectual Disabilities Services
.
Regional and local partnerships include interagency collaboration, health councils, adult provider agencies which serve intellectually and developmentally challenged adults, the
Tennessee Vocational Rehabilitation System
, the
Tennessee Technology Centers
, Columbia and Motlow State Community Colleges, the South Central local Interagency Coordination Council, the community of faith, local corporations, educational institutions, the Tennessee Agricultural centers,
University of Tennessee Nutritional Program
and United Ways.
All programs are overseen by local Advisory Boards with a variety of professionals, consumers, and minority representatives. These boards are responsible for the financial health and viability of the programs and ensure local voices are part of decision making.
Advisory Boards report to the
CDC Governing Board
. The boards ensure financial stability through community
funding
and support from United Way, civic clubs, the community of faith, local governments and individual contributors.
In 2006 the agency formed the
CDC Foundation
which addresses the long-term viability of the agency and the strategic funding necessary to ensure the mission of the agency is implemented.